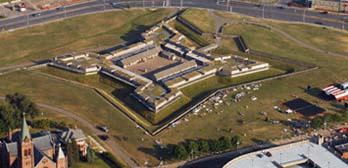 Fort Stanwix, NY (photo by NPS)
compiled from several sources
The Tax Day Tea Party is a national collaborative grassroots effort of conservatives, and an event will be held on April 15, at Fort Stanwix, New York. The reconstructed Revolutionary War fort is one of the three National Park Service sites along the entire length of the trail.
The Tea Party plan is for an apolitical event with speakers from the left, right and center. Politicians can attend, but organizer, Don Jeror said, "they won't be allowed to speak because we've heard everything they've had to say. We want them to hear what the people have to say."
Jeror's challenge: Fort Stanwix was "the only American fort never to be taken by the British during our war for independence (over taxes) and the first place the American flag flew in battle. Help us symbolically protect it from another over-taxing and over-spending government."
Jeror said that he has obtained permission for the event. The group will assemble on the west lawn, which can hold over 3,000 people. There is plenty of parking.
Other Tax Day Tea Party events have been organized around the country.
For more information on this event, contact
Don Jeror
See
Rome Sentinel
See
Tax Day Tea Party